Orthopedic 3-day Workshop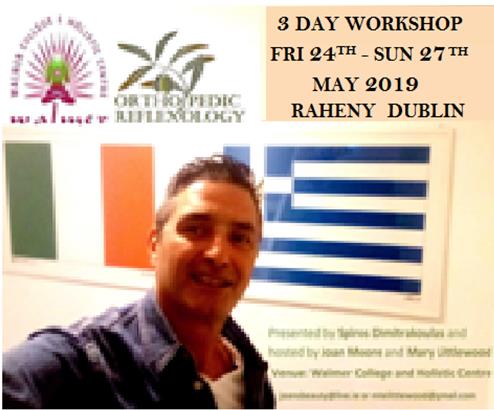 Presented by Spiros Dimitrakoulas
Hosted by Joan Moore and Mary Littlewood
Phone 01-8329645 or 0870909300
Venue Walmer College and Holistic Centre
1st floor River House
Raheny Shopping Centre
Raheny
Dublin5
Orthopedic is a compound word made up from the Greek word
"Ortho" = to stand and the ancient Greek word "Pedis" which can also mean "to bind" …….. The feet in our case.
Spiros will show you how Hippocrates (Father of modern medicine) teaches us to bind the feet, loosening here-tightening there, in order for someone to stand straight up, to have autonomy and wellbeing, thus health!
This 3-day workshop will cover the anatomy and physiology of the lower leg in great detail to teach a thorough understanding, and the techniques for each structure.
Spiros taught his highly informative and hands – on course in Walmer College last March, which was a huge success and participants learned lots of wonderful techniques to add to their existing skills (check Walmer College website for testimonials).
 Joan and I feel very privileged and delighted to offer this inspirational and motivational course again in Ireland. This course is suitable for all reflexologists especially for those who are or would like to treat sport injuries alongside their current services.
To assist athletes with maintaining optimum health and fitness, and any other problems of posture, gait, foot and leg pain, and to understand structural disorders in adults and children. The protocol to utilise Spiros's specific techniques to relieve discomfort and improve overall wellbeing with all age groups.
Extremely beneficial for working with elderly clients as Spiros has extensive experience working with this group.
Places are limited so for more details and to reserve your place please email joansbeauty@live.ie or mtelittlewood@gmail.com
Phone 01-8329645 or 0870909300.
 Walmer College FB page or Balance & Harmony School of Reflexology FB page.
Course Dates: Friday 24th to Sunday 27th June 2019 Course Fee: €415 early bird €385 (€100 deposit is required to reserve your place) this is non-refundable unless course doesn't form…… Workshop takes place at Walmer College (directions below)
I attended the Orthopedic Reflexology course with Spiros last spring and thoroughly enjoyed it. Spiros has deep understanding of the anatomy of the feet and lower leg. He ties this in with differing schools of thought, always referencing his learning and/or research. I found this refreshing. The three days are intense, with the right balance between theory and practical. Spiros always took time to make sure we understood his teaching and knew how to out it into practice. If you love anatomy and having a thorough explanation of reflexology and its workings, then this is the course for you.
I completed Spiros Dimitrakoulas's Orthopedic Reflexology CPD course earlier this year at Walmer College. From the time I applied the staff at Walmer were very friendly, helpful and a accommodating. There is a very friendly and relaxed atmosphere while being conducive to a positive and effective learning environment. Spiros was a great teacher with a wealth of knowledge who has inspired my practice and given me more confidence in my practice through enhanced techniques and providing information on latest research into reflexology. I highly recommend both Spiros as a facilitator and Walmer college for a place to gain valuable CPD training
I couldn't be happier with the Orthopedic Reflexology Course. Spiros is a great teacher who inspires his students to have a deeper knowledge of the feet and lower leg. I can truly say I see feet differently after this experience. Reflexology because an even more fascinating therapy. Thank you Spiros, mary and Joan.
"The Orthopedic Reflexology workshop adds a new dimension to classic Reflexology and is especially useful for Reflexologists that have not done other modalities to address fascial migration patterns or joint mobilization."
I attended OR course in March 2018 with Spiros through the Walmer College. Excellent course, gained great knowledge of the lower leg and intrinsic muscles of the foot. I am getting brilliant feedback from my own clients and love bringing OR techniques into client reflexology treatments. Highly recommend this course, and of course the warm friendly atmosphere from the staff at Walmer College ~ thanks again Mary ~ Joan & Spiros
I attended the "Orthopaedic Reflexology" Course arranged by Mary& Joan in March this year. This Course was excellent, very informative and fascinating content was delivered by Spiros Dimitrakoulas. It was a great opportunity to focus on the skeletal and muscular systems of the body, and a good revision of anatomy and physiology. The new techniques learned will be an excellent add on to my normal Reflexology Treatment. Understanding the Orthopaedic elements will really assist with gaining insight as to where some client's ailments and injuries originate from. Working these additional systems will stimulate and relax clients and will be especially useful for clients with sports injuries, back problems and with overall tight fascial tissue in the foot and legs. As always Mary & Joan have exceeded my expectations by arranging another wonderful Reflexology Course to add to my skills and knowledge and most importantly this knowledge will be really useful to assist my clients.